Individual short vacation from Helsinki to Tampere
start request
Individual short vacation from Helsinki to Tampere - INTI Tours
Ecological short vacation by bike and paddle boat - 4-day program
Starting from Helsinki, this 4-day program to Tampere allows you to explore and actively experience the surroundings of the Finnish capital. Erkkilä is a beautiful country house just 80 kilometers from Helsinki and surrounded by large forest areas. Here you can experience a wonderful typical Finnish day. The small town of Hämeenlinna is the birthplace of the famous Finnish composer Jean Sibelius and is located directly on Lake Vanajavesi. Tampere used to be the "Ruhr area" of Finland and, among other things, the center of the textile industry. Today it is the third largest city in Finland and lies idyllically between the two lakes Näsijärvi and Pyhäjärvi. This short trip can be combined with a Helsinki city trip.
You can also combine this program with a longer tour of Finland. Just contact us.
---
Helsinki Country house Erkkilä Hämeenlinna with Häme Castle Lake Vanajavesi Tampere with lakes Näsijärvi and Pyhäjärvi
Itinerary
Cycling tour and visit to private country house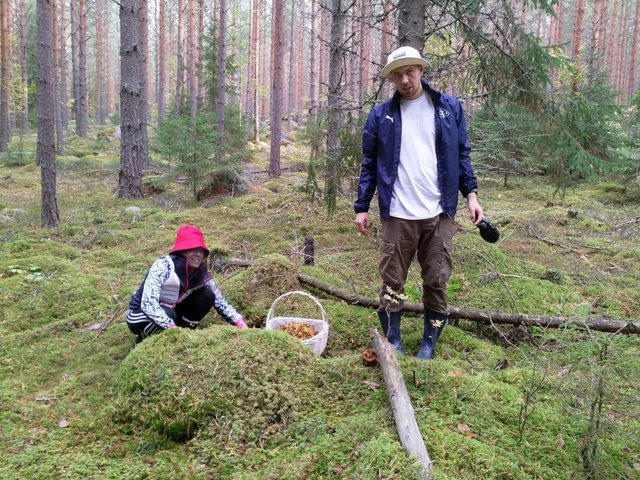 By train you start from Helsinki to Turenki, where your guide is already waiting for you. From the station, you will continue directly by bike and cycle about 16 kilometres through the most beautiful Finnish cultural landscape. On the way you can stop to visit an old church, stroll along a nature trail or go swimming in a lake. There is definitely no rush, and you can leave yourself enough time to roam the beautiful area. A picnic lunch awaits you. Your destination for the day is the beautiful country house Erkkilä, about 80 km from Helsinki, which is surrounded by large forest areas. You will spend a wonderful typical Finnish summer day on site. For example, from mid-July to mid-August the berry season is at its best and you are sure to enjoy a berry hunt together. In August you can often find some chanterelles as well. If the weather is hot, you can go to the lake for a swim. Later in the afternoon or evening, a sauna is available, you cook together with fresh vegetables from the garden and have a delicious meal. You stay overnight in a private cabin by a small pond or in a small log cabin. The guest room in the main house is also available.
Cycling tour and visit to the medieval castle of Häme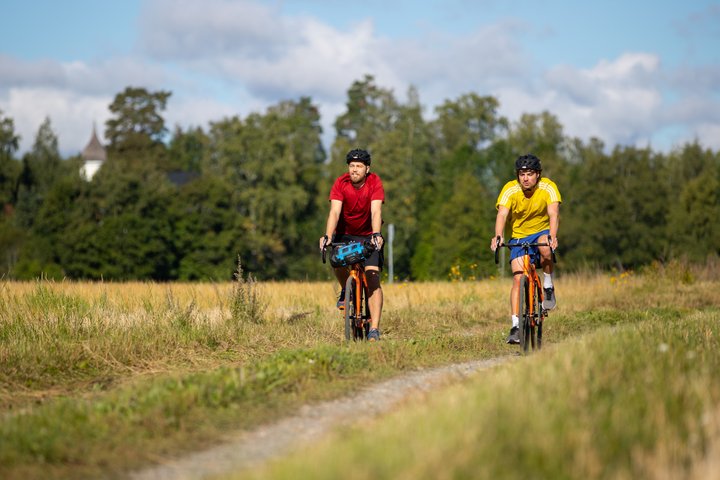 Hämeenlinna has a long history dating back to the Middle Ages. After an excellent breakfast, you cycle from Erkkilä to the mighty Häme Castle (about 1.5 hours, 24 km) and learn about the Middle Ages in Finland during a tour (1-2 hours). Later, continue cycling along the shore of Lake Vanajavesi to return your bikes in nearby Aulanko (between 5-15 minutes, 4 km). After lunch, an e-taxi will take you to Aulanko railway station. The journey continues by train to Tampere and by e-taxi to the hotel. Dinner on your own and overnight at the hotel.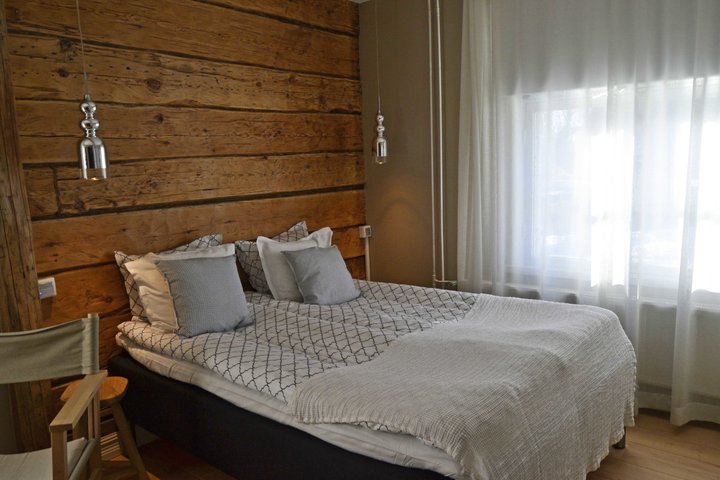 Tampere is idyllically situated between the two lakes Näsijärvi and Pyhäjärvi. Almost 1/4 of the geographical area of the city is water. The lakescape is best seen from above and your local guide will take you on a special city tour, visiting three different observation towers: the picturesque old tower of Pyynikki, the newest hotel tower with bar and restaurant at the top and Näsineula, the transmission tower with revolving restaurant (duration about 5 hours - alternatively you can take a culinary city tour). If you wish, you can also visit the Moomin Museum. If possible, we can also take you out on the water in a giant canoe. The afternoon is at leisure. Your charming boutique hotel in Tampere provides bicycles for guests, so you can move freely in and around Tampere at any time. Overnight stay at the hotel.
Paddle tour and departure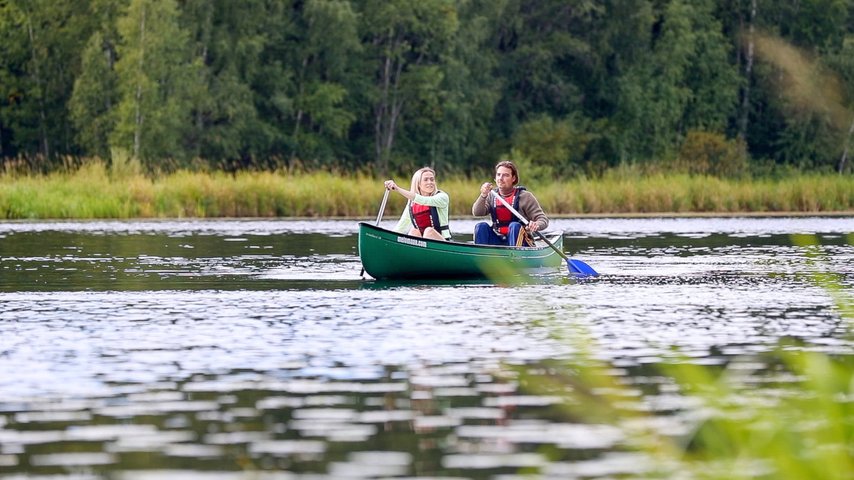 After breakfast you check out of the hotel, but leave your luggage on site. You can spend the morning on your own - lunch at the hotel. Afterwards you cycle to the paddling starting point (about 20 min, 4 km). Then a 2-hour boat tour by kayak or canoe is on the programme. In the evening we return to Helsinki by train.
- Subject to change -
---
Dates & Prices
This is a sample trip as it has already been arranged by us for customers and carried out in this way.
We are happy to change the travel proposal according to your wishes. Travel date and route will be coordinated with you and we will create a non-binding travel offer for you.
Feel free to call us or contact us here via the contact form.
---
Included services
1 night in Erkkilä country house
1 night at hotel in Hämeenlinna
1 night at boutique hotel in Tampere
Meals: 3 x breakfast , 4 x picnic or lunch, 1 x dinner
Transportation by train, e-bike and boat
Berry or mushroom picking during a forest walk
Sauna at Erkkilä country house
Visit to the medieval Häme Castle
Tampere city tour on foot: "The Towers of Tampere" or "Tampere Culinary Tour
Paddle tour near Tampere
Additional fees / not included
Travel
Optional tours
Additional meals and drinks
Travel insurance (luggage, health insurance, cancellation insurance)
---
Visa requirements for this trip
VISA DETAILS FINLAND:
You will need a passport or identity card as your travel document. Travel documents must be valid for the entire duration of your stay. Despite the abolition of passport controls within the Schengen countries, every traveler is obliged to carry a valid identity document.
Entry requirements for German citizens may change at short notice! Legally binding information on entry requirements can only be obtained directly from the embassy or one of the consulates general of your destination country.
Detailed information on entry requirements can be found on the website of the German Foreign Office:
https://www.auswaertiges-amt.de/de/aussenpolitik/laender/finnland-node/finnlandsicherheit/211624
If you are a citizen of a country other than Germany, please let us know your nationality when making your inquiry or booking so that we can inform you about the corresponding entry requirements. Thank you very much!
---
You may also like this…
Individual short vacation from Helsinki to Tampere
4 days Individualreise
2 up to 8 travellers
upon request
Trip not suitable for disabled persons with reduced mobility.