Classic Namibia trip individual
Classic Namibia trip individual: to get to know - INTI Tours
Example trip: Experience the core points of Namibia as a self-driver
We have planned and realized this example tour for our clients. It is based on the wishes of our clients and represents a combination of different regions of Namibia. Partly private guided tours are planned, then again time at your own disposal with suggestions and with the rental car.
Such a sample trip should show you what is possible. And it should give suggestions. You are welcome to tell us your individual wishes and ideas - we will create your personal dream trip in our travel manufactory. Please feel free to call us or contact us.
And here it goes to the trip:
This is a "classic Namibia trip to get to know" - high quality, individual and varied with a wide range of interests. You will experience a rich fauna and diverse flora in fantastic landscapes and their geology. You can climb the highest dunes on earth as well as have encounters with the highly interesting cultures of the ethnic groups and their history - literally carved in stone. Learn a lot about Namibian history, stay on a typical farm, look into the eyes of different predatory cats and do some hiking. In short - a trip that consists of the most visited highlights of Namibia and serves as a nice "all in one" trip. Since such an itinerary is offered in quite a few similar tours, we have taken great pains to steer you past the crowds of visitors and have chosen better, very individual accommodations. For a little more money you get much more service and exclusivity! However, we are happy to change the itinerary according to your personal wishes.
---
Windhoek Kalahari Naukluft Largest private farm in Namibia with excursions Namib Rand Nature Reserve Dune landscape of Sossusvlei Sesriem Canyon Kuiseb- and Gaubcanyon Swakopmund and Walvis Bay Granite ball landscape of the Erongo Twyfelfontein Etendeka Etosha National Park Waterberg
Itinerary
Windhoek with big cat reception...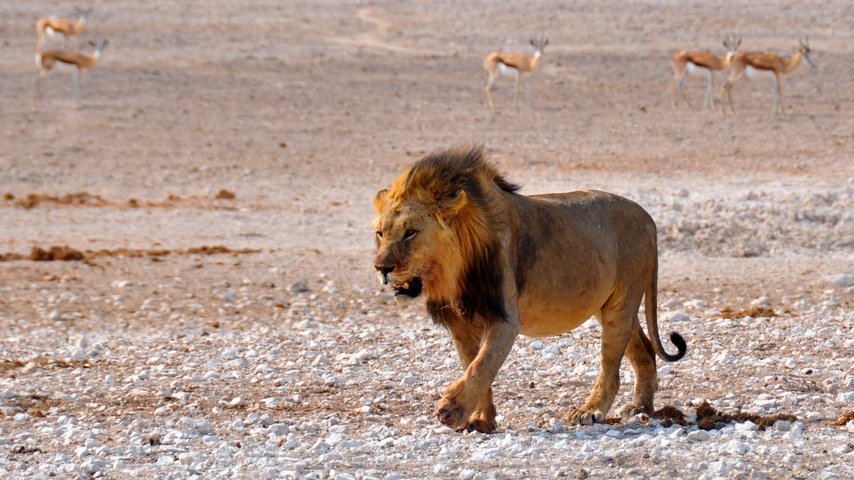 You will probably have an evening flight from Europe and get off the plane early in Windhoek. Reception at the airport, vehicle handover with insurance logistics, handover of your vouchers, maps, route description and welcome package. Your first drive takes you to your first place of accommodation - a high-quality lodge with an affiliated foundation. This is a pioneer in the rehabilitation of various big cats and wild dogs. For you as a visitor, lots of information and photo moments are guaranteed! During the feeding of the big cats you will learn a lot during interesting explanations.
With its linear dune landscapes and camel thorn forests, the Kalahari is a photographer's paradise. Your drive takes you to a high-quality lodge in the middle of the Kalahari dune world, where you go on an afternoon game drive into the dunes.
Naukluft - Namibian fold mountains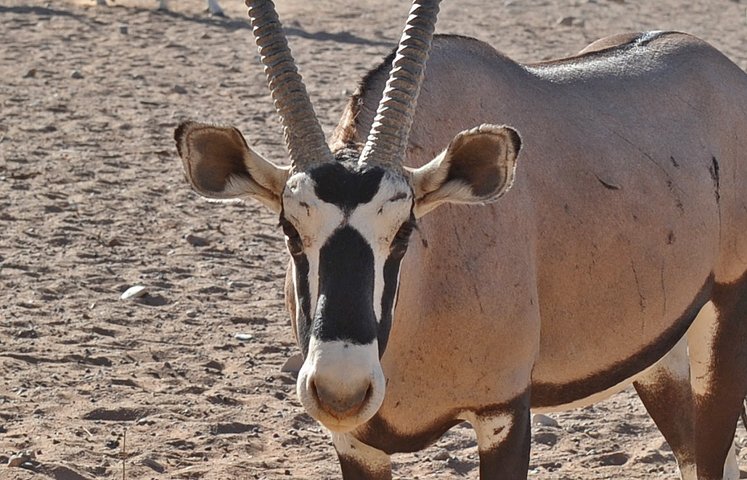 Your next destination is a folded mountain range in Namibia, the Naukluft. It was one of the most interesting areas in Namibia for the famous geologist Hans Cloos (book tip: Conversation with the Earth). Rare bird and plant species, mountain zebras and kudus, paradisiacal moments at clear springs under fig trees await you. You will spend the night on a genuine Namibian farm with German Namibian owners on the edge of the Naukluft. A bow field tour concludes the day.
Leaflove Safari Private Farm and Nature Reserve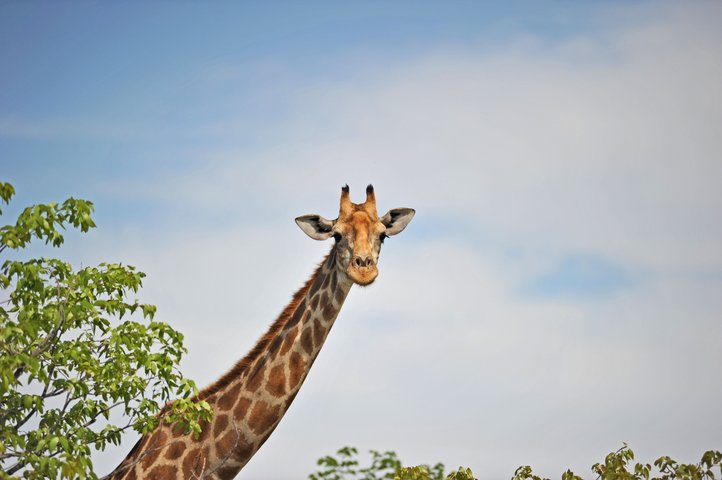 The old family farm is run by the 5th generation of the Voigts von Schütz family. Ecological principles with nature-friendly farming (hence the healthy food) and a genuine love for the rugged semi-desert nature are reflected in everyday life on this Namibian-typical farm. Visitors are pampered and entertained around the campfire and you can feel like a welcome guest. The early or late hours of the day are filled with game drives, walks and intensive nature observation and interesting conversations. Giraffes and antelopes show themselves in the red sandstone landscape through which the green vegetation strips of the dry rivers meander. Ornithologists find the bunting lark here, botanists the "baboon's shoe", geologists can collect limonite cubes and photographers let the sun set behind giraffes... Just enjoy yourself! Two nights at Leaflove Safari's Nomtsas Private Farm with exclusive visitor rights to Namibia's largest farm with extensive game reserve.
Dune landscapes at Sossusvlei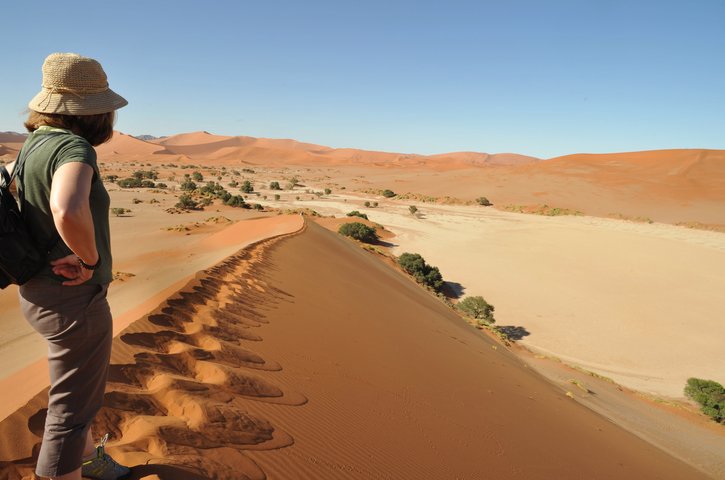 Experience beautiful and varied landscapes amidst the Namib dunes of the Namib Rand Nature Reserve and ecologically sound game drives through fantastic dune valleys. Sossusvlei is surrounded by the highest dunes in the world. Opportunities for climbing with fantastic views. Visit the Sesriem Canyon. You will get to know remarkable landscapes at the granite massif of the Rotstock near the slate worlds of the Gaub Canyon. You will spend the night in a high-quality lodge. Your overnight stay allows you to use and enjoy your own entrance to the Namib Naukluft Park. This also ensures an early arrival before the main streams of visitors on a guided game drive into Sossusvlei. The game drives take place in open terrain jeeps with well-informed guides. And a sundowner drive into the erosion valleys of Ghaub Canyon are the icing on the cake of your desert experience.
Info: The dunes at Sossusvlei are now usually visited by a large stream of visitors. After all, the dunes are a unique and beautiful landscape highlight. With your choice of accommodation, a super beautiful dune experience in the Namib Rand dune world awaits you. The lodge uses its own park entrance and thus you also get to know the world-famous Sossusvlei unadulterated and before the influx of most visitors. The extra charge is worth it because of the individual dune experience, the high quality of accommodation, the super service and the ecological principles of this lodge.
Kuiseb and Gaub Canyon - Welwitschia - Swakopmund

On today's drive you can admire the world-famous "Welwitschia mirabilis" (1,500 years old), lichen fields and the so-called moon landscape. Towards evening you will finally reach the small coastal town of Swakopmund, where there will be some time for strolling, sunbathing, visiting the sights such as the museum, the Ozenarium, the crystal gallery and having coffee.
Optional activities, which you are welcome to do with a reservation:
Catamaran cruise
Kayak tour
Sightseeing flights
Eco Dune Tour
Fatbike Tour
Bushmen, endemic birds and granite landscapes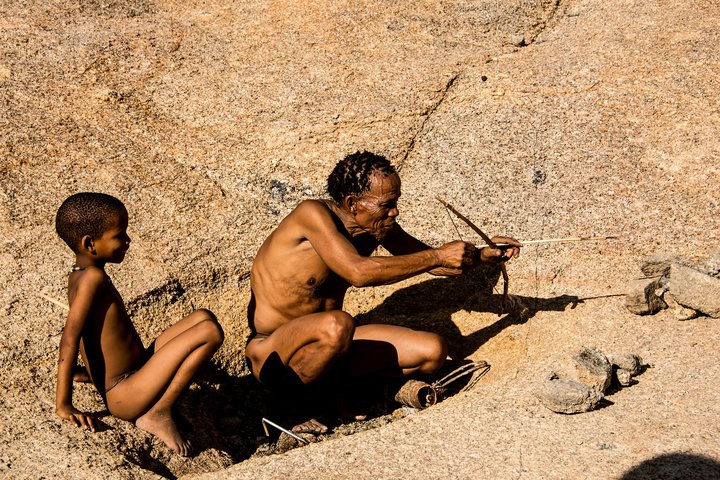 Today, you will experience the impressive granite landscape of the Erongo, which also offers excellent photo opportunities and a varied semi-desert flora. The "Living Museum of the Bushmen" gives visitors an interesting insight into the ancient hunter-gatherer culture and the original way of life of the San. Another drive takes you to various rock paintings. Stay overnight in a scenic lodge and on a Namibian guest farm.
Twyfelfontein, Petrified Forest & Burnt Mountain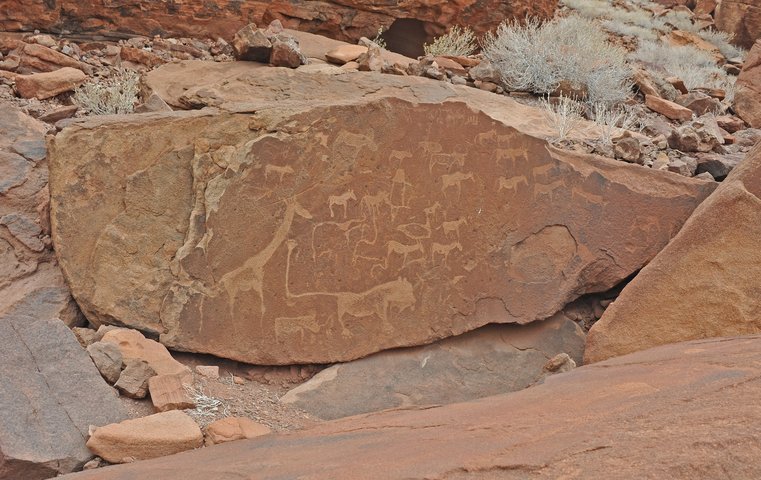 Thousands of years ago, the Bushmen lived between the sandstone rocks at Twyfelfontein and carved their history in stone. Very interesting are various engravings and even a few rock paintings. On the way you will also visit the petrified forest at Blaauwkrans, make a photo stop at the burnt mountain as well as at the organ pipes. An overnight stay in a high-quality lodge amidst the granite spheres at Twyfelfontein.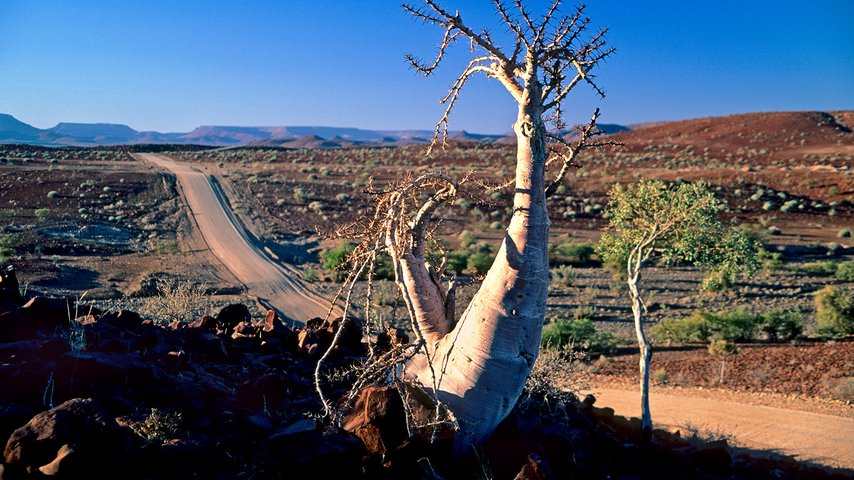 The geology of Damaraland offers a fascinating picture of diverse colours and shapes. Rare succulents, endemic bird and animal species between the Etendeka Table Mountains. You stay this night in a high-quality lodge on the edge of the Etendeka Plateau.
Wildlife Sanctuary & Wilderness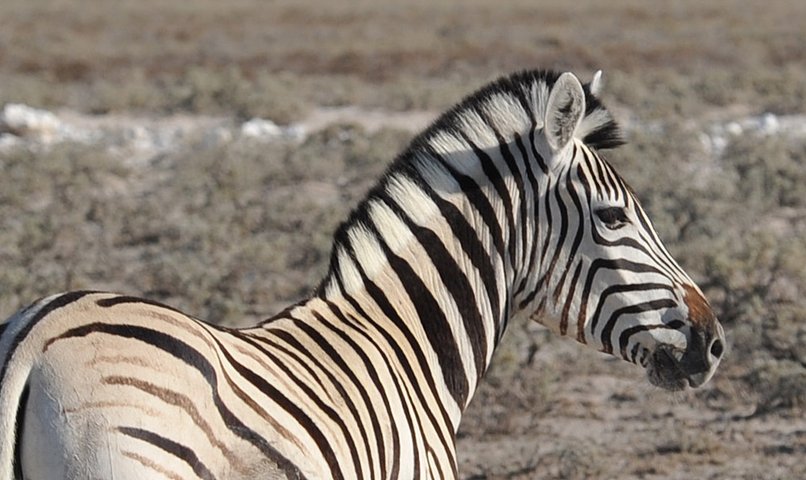 Here you will experience truly untouched nature, where wildlife can still follow the everyday rhythm of Africa. You can expect encounters with endemic mountain zebras, numerous antelopes and giraffes. Lions, leopards, cheetahs and elephants also like to roam this area - but being able to observe them remains a matter of luck. You will stay in a high-quality lodge on a unique wilderness area, the game drives are carried out in open off-road vehicles.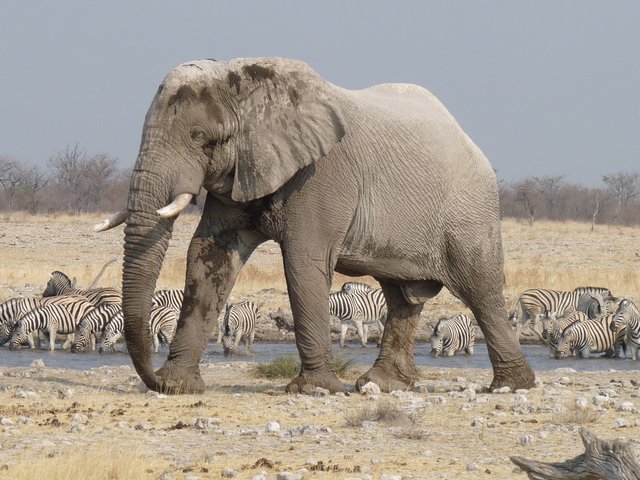 Etosha National Park is known as the "Great White Place". It covers over 22,000 square kilometres and is one of the most game-rich parks in the whole of Africa. The wildlife has lost its fear of vehicles and offers excellent opportunities for game viewing and photography. For your overnight stays we have booked once a very high quality lodge with its own game reserve on the south side of the park and then a very high quality and individual camp on the east side of the park.
Info on the situation in Etosha National Park: Etosha National Park suffers from a constantly growing flood of visitors. We therefore like to book the high-quality smaller lodges outside the park for our clients. However, this has the disadvantage that you cannot sit at the waterhole at night. Should you therefore prefer to spend the night inside the park, we will be happy to book this for you.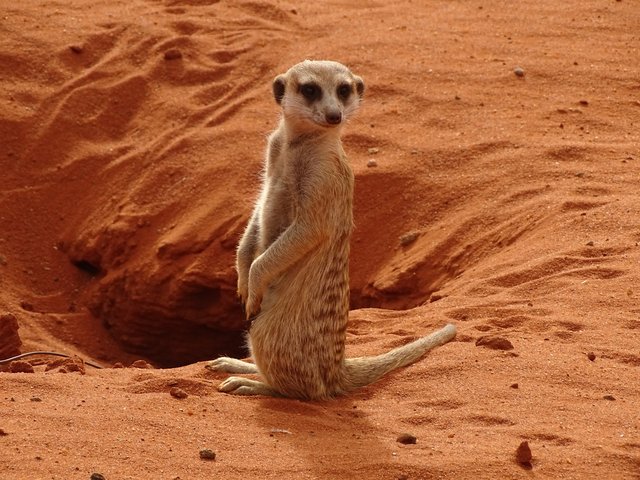 Continue your journey and visit Lake Otjikoto on the way. Admire precious crystals and cannons at the Tsumeb Museum as well as the imposing Hoba meteorite. The five vegetation levels of the Waterberg sandstone plateau allow you to enjoy various walks. This night you spend in a mid-range bungalow at the Waterberg.
You will experience the home of the foundation for African cats - the "Africat Foundation". A successful observation of wild leopards is almost guaranteed here and you also get to see other cats such as cheetahs and lions. You will spend the night in a very high-quality bush camp in the middle of the acacia savannah.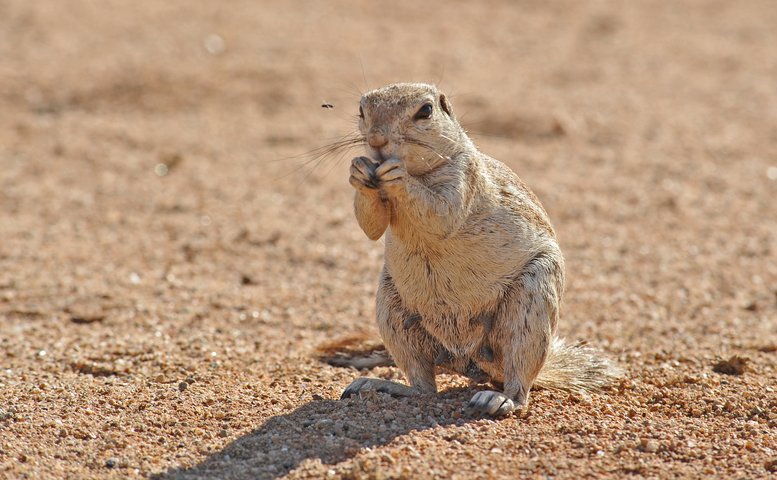 In due course transfer to the airport and return flight to Germany. Or you can extend your Namibia trip as you wish.
- Subject to change -
---
Fechas y precios
This is a sample trip as it has already been arranged by us for customers and carried out in this way.
We are happy to change the travel proposal according to your wishes. Travel date and route will be coordinated with you and we will create a non-binding travel offer for you.
Feel free to call us or contact us here via the contact form.
---
Included services
Accommodation and meals as described in the itinerary
Transfers as described in the itinerary
Activities as described in the itinerary
Rental car:
Piste and safari friendly 4WD Toyota Hilux double cab (up to 4 people) - For larger groups a specially converted Landcruiser with roof hatch, window seats and large windows can be rented!
gravel road friendly tires and two very good spare tires
highest possible insurance without damage participation in case of external fault
free transfers/handling from and to the airport
return of the rented car (if logistically necessary)
Additional charges / not included
International flights (separate offer)
entrance fees to the national parks and sightseeing attractions in the itinerary
Additional optional activities
Personal expenses
Airport tax, international entry and exit taxes
Additional meals and drinks
Tips
Travel insurance
---
Important for this trip
Entry requirements as well as vaccination requirements:
Your passport must be valid for at least six months beyond your trip at the time of entry and still have at least two blank pages. It must be in perfect condition, i.e. neither damaged (e.g. torn, bent, "repaired" by yourself or even accidentally washed) nor illegible or difficult to read due to dirt.
In recent times, there have been individual cases of problems with the immigration authorities at the airport and at the borders by land, because the period of validity of entry visas has been arbitrarily determined.
Germans may enter the country without a visa for short-term stays of up to 90 days per year for exclusively tourist purposes. A toll-free entry stamp (Visitors Entry Permit) is issued upon arrival at all official border crossings.
No compulsory vaccinations are required for direct entry from Germany. In case of entry from a yellow fever area or stay of more than 12 hours in transit of a yellow fever area, all persons from the age of 9 months have to prove a yellow fever vaccination. Namibia itself is not a yellow fever area.
Make sure that you and your children are up to date with the standard vaccinations according to the vaccination calendar of the Robert Koch Institute. As travel vaccinations, vaccinations against hepatitis A are recommended, and also against hepatitis B, typhoid, rabies and meningococcal disease (ACWY) for long-term stays or special exposure.
Special situation Covid-19:
Please cover your travel payments insurance-wise if you are unable to travel due to a positive test result. Some clients test themselves a few days before departure already to have a little more assurance. We find this step helpful.
You can also get tested at the airport so you can enter the country with a fresh test result. Namibia requires an English negative result no older than 72 hours prior to entry.
Please follow this link: https:// www.centogene.com/covid-19/test- centers/frankfurt-airport.html.
Please wear a mask upon entry and please bring masks for the road.
Important notes:
Due to legal requirements, we would like to point out that this trip is generally not suitable for persons with reduced mobility. If you have any health restrictions, please contact us before booking the trip. We will do our best to make it possible for you to participate and will check whether the desired trip is suitable for you.
Registration for the trip can be made through our website, by phone, fax or email.
Classic Namibia trip individual
22 days Bestseller
1 up to 6 travellers
upon request
For the mentioned flights, climate-relevant emissions of about 5,114 kg CO2 are produced per person. By a voluntary contribution of 118,00 Euro to atmosfair you can contribute to the relief of our climate.
Trip not suitable for disabled persons with reduced mobility.