Individual self drive tour in Namibia's north
Unique individual self-drive tour in Namibia - INTI Tours
Sample tour: Into the wilderness of Kaokoland & Skeleton Coast
We have planned and carried out this example trip for customers in the same way. It is developed from the wishes of the customers and represents a combination of different regions of Namibia. Partly private guided tours are planned, then again time at your own disposal with suggestions and with the rental car.
Such a sample trip should show you what is possible. And it should give suggestions. You are welcome to tell us your individual wishes and ideas - we will create your personal dream trip in our travel manufactory. Please feel free to call us or contact us.
And here it goes to the trip:
On this individual self-drive tour in Namibia's north you will experience wilderness in Kaokoland and Damaraland with beautiful, ecologically managed lodges. Kaokoland and Damaraland are jewels of Namibia's wilderness. The long distances and lack of infrastructure have kept tourism in this area at bay for many years. The Kaokoland and the Damaraland are of course seen again and again in nature movies because of their desert lions, elephants and rhinos, but also the unique landscapes, the enchanting flora and the highly adapted life of many small mammals and birds will inspire you! Culturally and historically the Ova Himba and the Damara are of course the absolute contrast to the western world and therefore very much worth experiencing. This is a journey for explorers. Have we made you curious?
Info: The special charm of this wilderness lies deep in the heart of the Hoanib and Hoarusib dry river. To fully appreciate the area, visitors must dig deep into their pockets. However, there are alternative accommodations on the outskirts, which are not as individual and "wilderness real", but also make for an attractive safari. Therefore, please feel free to let us know if you would like us to put together a more affordable version for you.
---
Windhoek Ugab Terraces Game Reserve & Wilderness OvaHimba - Kaokoland - Epupa Falls Hoarusib and Hoanib Skeleton Coast Etendeka Twyfelfontein Swakopmund & Walvis Bay
Itinerary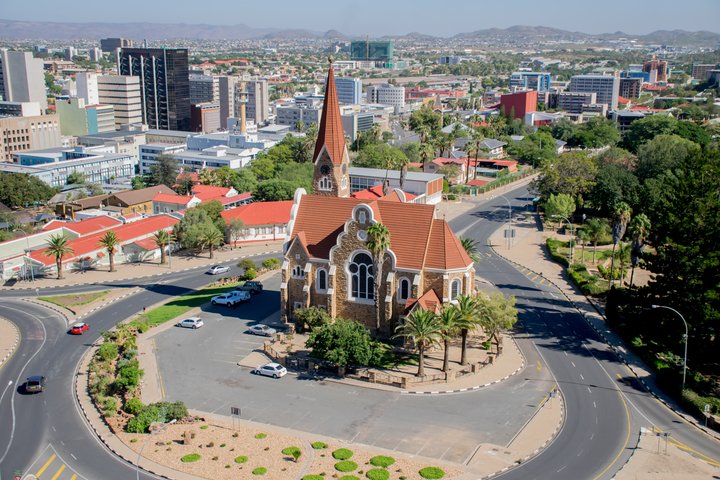 You will probably have an evening flight from Europe and get off the plane early in Windhoek. Reception at the airport, vehicle handover with insurance logistics, handover of your vouchers, maps, route description and welcome package. City tour and shopping on your own or optional professionally guided. Your first night's accommodation will be in a lovingly run guesthouse within Windhoek, there are numerous restaurants nearby.
Ugab Terraces - Vingerklip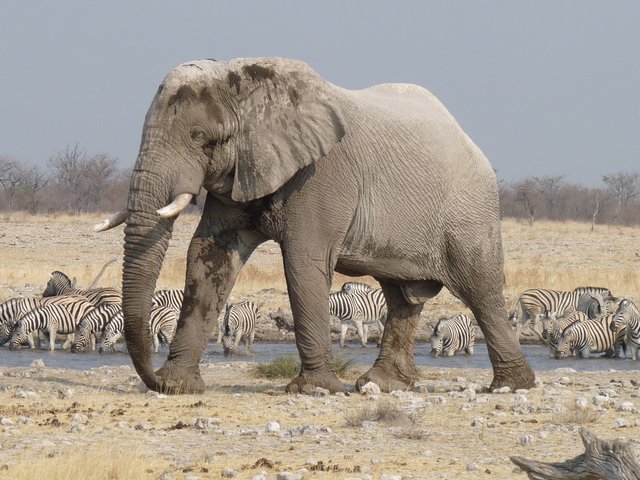 Today you start your Namiia round trip to the adventurous north. The Ugab Terraces are a large erosion valley that is said to resemble Monument Valley. The area is geologically very beautiful and the main attraction is a gigantic rock finger called the Vingerklippe. You will stay overnight in a high quality lodge with beautiful views in the Ugab Valley.
Wildlife Sanctuary & Wilderness
Here you will experience truly untouched nature, where wildlife can still follow the everyday rhythm of Africa. You can expect encounters with endemic mountain zebras, numerous antelopes and giraffes. Lions, leopards, cheetahs and elephants also like to roam this area - but being able to observe them remains a matter of luck. You will stay in a high-quality lodge on a unique wilderness area, the game drives are carried out in open off-road vehicles.
OvaHimba - Kaokoland - Epupa Falls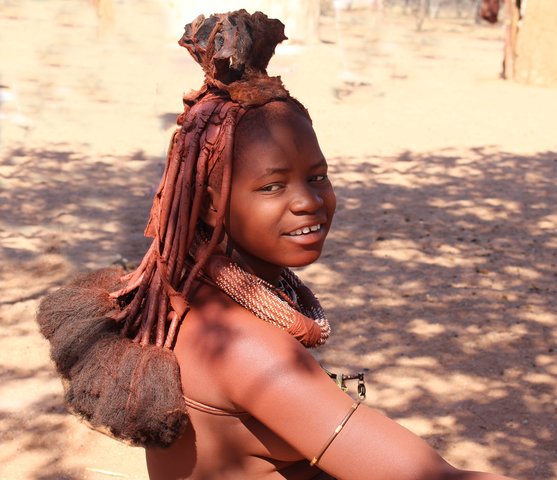 Today you travel through Kaokoland - the territory of the OvaHimba - with the Epupa waterfalls and the endless Mopani savannahs. Along the way you will see several African settlements. With a local Himba guide you will visit an OvaHimba kraal. The Epupa Falls are an impressive natural spectacle and a playground for farm animals and locals. You will stay in middle class lodges directly on the Kunene River near the Ruacana and Epupa Falls.
The Hoanib and Hoarusib Oasis Area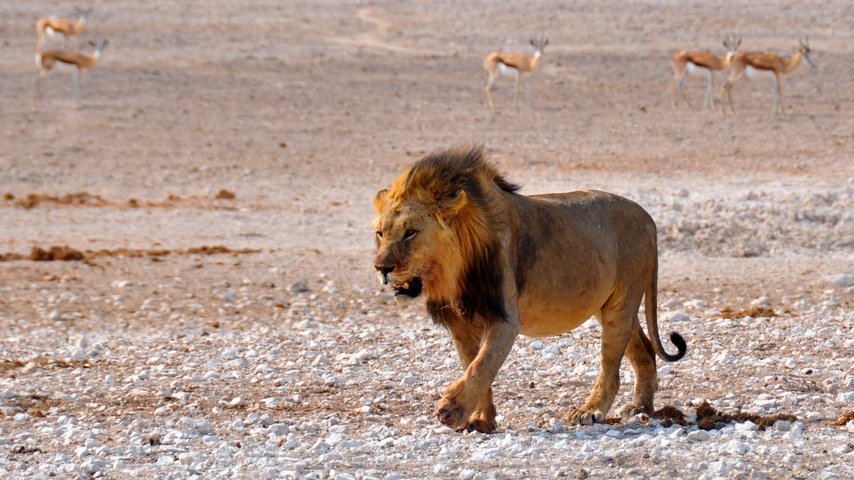 The Hoarusib and the Hoanib with its dune landscapes are part of deep Kaokoland. Diverse natural areas and an unexpectedly interesting wildlife of desert elephants, desert lions and much more await you. You will stay in very high quality lodges with luxurious chalets on the Hoarusib and the Hoanib. Various activities are offered from the lodge.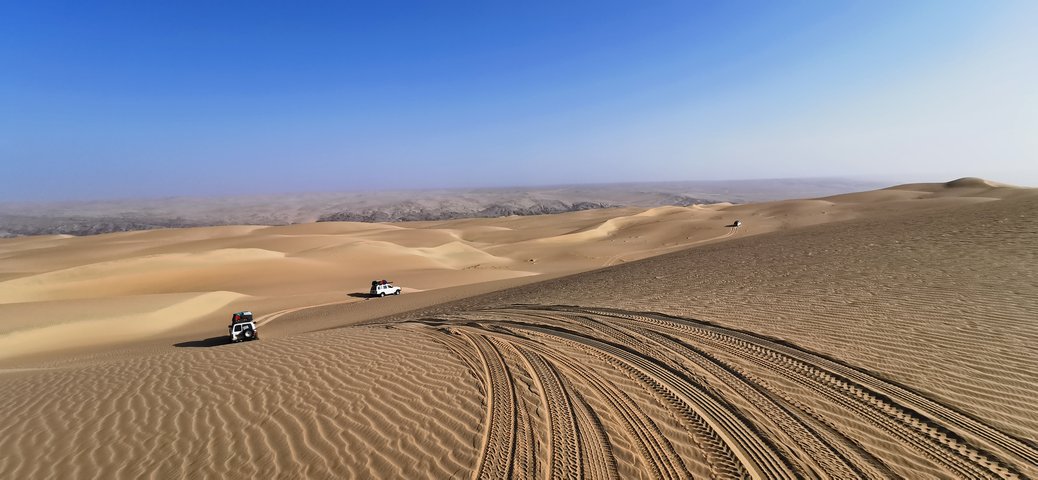 The Skeleton Coast of Namibia has an incredibly rugged beauty. You will go on excursions to the so-called Clay Castles of the lower Hoarusib and discover beautiful dune landscapes amidst bizarre mountain formations. Look out for brown hyenas, desert elephants and desert lions in this dream landscape. A very high quality, elegant, secluded lodge within the Skeleton Coast will be your place of accommodation, which also offers various activities.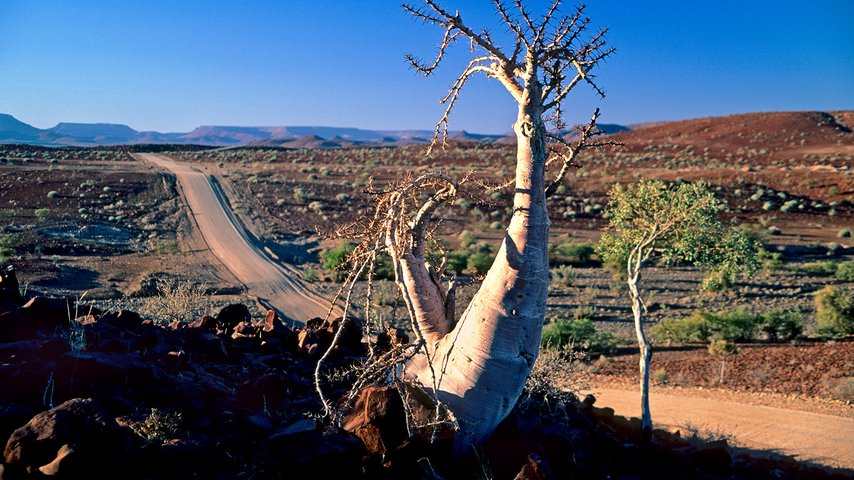 The geology of Damaraland offers a fascinating picture of diverse colours and shapes. Rare succulents, endemic bird and animal species between the table mountains - Etendeka offers uniquely beautiful landscapes. You spend the night in a high-quality lodge on the edge of the Etendeka Plateau.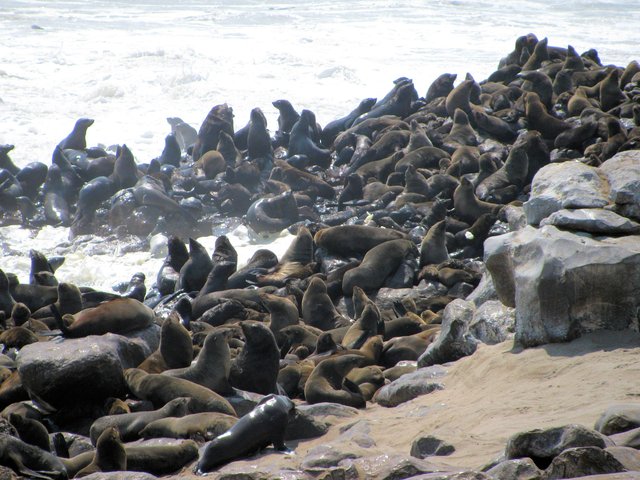 Sights in this area are the petroglyphs at Twyfelfontein, the so-called Burnt Mountain, the basaltic organ pipes and the petrified trees. A visit to the seal colony at Cape Cross with its maritime history rounds off the varied day. You will spend the night in a high-quality lodge in the middle of the granite spheres at Twyfelfontein.

Today you arrive in the small coastal town of Swakopmund, where there is time for strolling, sunbathing, sightseeing such as the Museum, Ozenarium, Crystal Gallery and coffee.
Optional activities, which you are welcome to do with a reservation:
Catamaran trip
Kayak tour
Sightseeing flights
Eco Dune Tour
Fatbike Tour
Return journey to Windhoek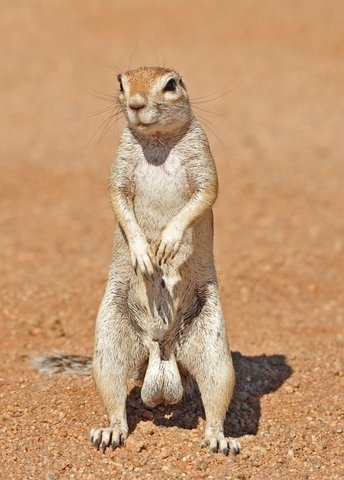 The last day of your journey should proceed quickly so that there is still enough time to buy Namibian handicrafts as souvenirs in the capital. Today you will return your rental car and transfer to your last accommodation. You will spend this night in a high-quality and very individual farm lodge near the airport.
In due course transfer to the airport and return flight to Germany. Or you can extend your Namibia trip as you wish.
- Subject to change -
---
Dates & Prices
This is a sample trip as it has already been arranged by us for customers and carried out in this way.
We are happy to change the travel proposal according to your wishes. Travel date and route will be coordinated with you and we will create a non-binding travel offer for you.
Feel free to call us or contact us here via the contact form.
---
Included services
Accommodation and meals as described in the itinerary
Transfers as described in the itinerary
Activities as described in the itinerary
Rental car:
Piste and safari friendly 4WD Toyota Hilux double cab (up to 4 people) - For larger groups a specially converted Landcruiser with roof hatch, window seats and large windows can be rented!
gravel road friendly tires and two very good spare tires
highest possible insurance without damage participation in case of external fault
free transfers/handling from and to the airport
return of the rented car (if logistically necessary)
Additional charges / not included
International flights (separate offer)
entrance fees to the national parks and sightseeing attractions in the itinerary
Additional optional activities
Personal expenses
Airport tax, international entry and exit taxes
Additional meals and drinks
Tips
Travel insurance
---
Important for this trip
Entry requirements as well as vaccination requirements:
Your passport must be valid for at least six months beyond your trip at the time of entry and still have at least two blank pages. It must be in perfect condition, i.e. neither damaged (e.g. torn, bent, "repaired" by yourself or even accidentally washed) nor illegible or difficult to read due to dirt.
In recent times, there have been individual cases of problems with the immigration authorities at the airport and at the borders by land, because the period of validity of entry visas has been arbitrarily determined.
Germans may enter the country without a visa for short-term stays of up to 90 days per year for exclusively tourist purposes. A toll-free entry stamp (Visitors Entry Permit) is issued upon arrival at all official border crossings.
No compulsory vaccinations are required for direct entry from Germany. In case of entry from a yellow fever area or stay of more than 12 hours in transit of a yellow fever area, all persons from the age of 9 months have to prove a yellow fever vaccination. Namibia itself is not a yellow fever area.
Make sure that you and your children are up to date with the standard vaccinations according to the vaccination calendar of the Robert Koch Institute. As travel vaccinations, vaccinations against hepatitis A are recommended, and also against hepatitis B, typhoid, rabies and meningococcal disease (ACWY) for long-term stays or special exposure.
Special situation Covid-19:
Please cover your travel payments insurance-wise if you are unable to travel due to a positive test result. Some clients test themselves a few days before departure already to have a little more assurance. We find this step helpful.
You can also get tested at the airport so you can enter the country with a fresh test result. Namibia requires an English negative result no older than 72 hours prior to entry.
Please follow this link: https:// www.centogene.com/covid-19/test- centers/frankfurt-airport.html.
Please wear a mask upon entry and please bring masks for the road.
Important notes:
Due to legal requirements, we would like to point out that this trip is generally not suitable for persons with reduced mobility. If you have any health restrictions, please contact us before booking the trip. We will do our best to make it possible for you to participate and will check whether the desired trip is suitable for you.
Registration for the trip can be made through our website, by phone, fax or email.
Individual self drive tour in Namibia's north
19 days Individualreise
1 up to 8 travellers
upon request
For the above-mentioned flights, climate-relevant emissions of about 5,114 kg of CO2 are produced per person. By making a voluntary contribution of 118,00 Euro to atmosfair you can help to relieve our climate.
Trip not suitable for disabled persons with reduced mobility.